Hidden Gem: Playa Cativo, Gulfo Dulce, Costa Rica
Playa Cativo Lodge is an eco-luxury beachfront lodge located in the Golfo Dulce region of Costa Rica.
The lodge sits on the southern Pacific coast of Costa Rica, near the Osa Peninsula — named "the most biologically intense region on earth" by National Geographic. 
The resort is only accessible by boat and is encompassed by the Piedras Blancas National Park in Golfo Dulce.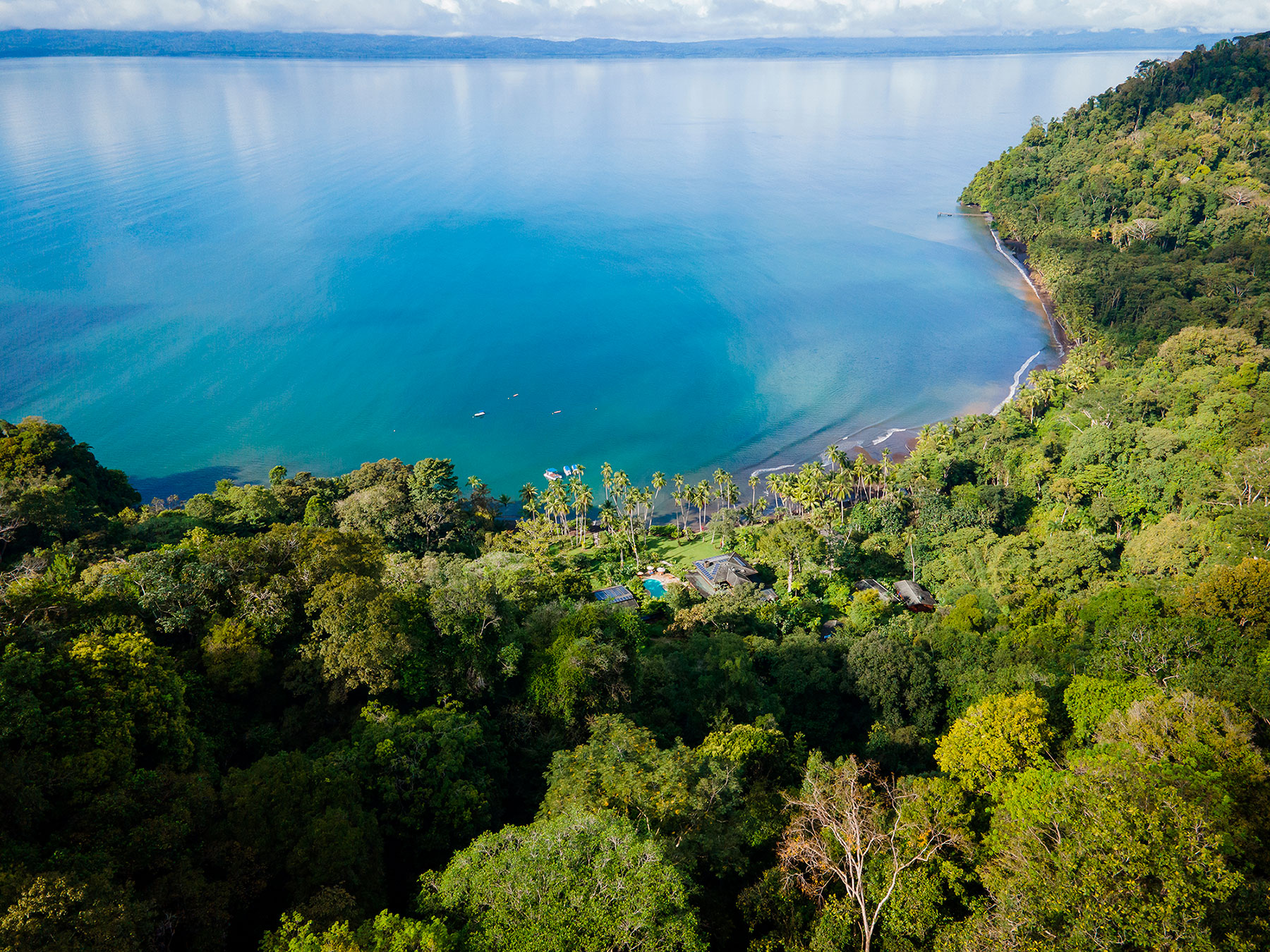 What Makes Playa Cativo Lodge a Hidden Gem?
Eco-Friendly Design 
The lodge prides itself on its sustainability practices.
Playa Cativo was designed to harmonize with its natural environment. It features sustainable building materials, open-air spaces, and innovative design concepts that immerse guests in the rainforest while minimizing the ecological footprint.
The lodge was built from indigenous rescued wood, and its rooms have been decorated with reclaimed hardwood and artwork crafted by local artisans.
Location Within Piedras Blancas National Park
The lodge is located within the Piedras Blancas National Park, renowned for its biodiversity. This pristine natural setting allows guests to experience the rainforest, beach, and marine life all in one place.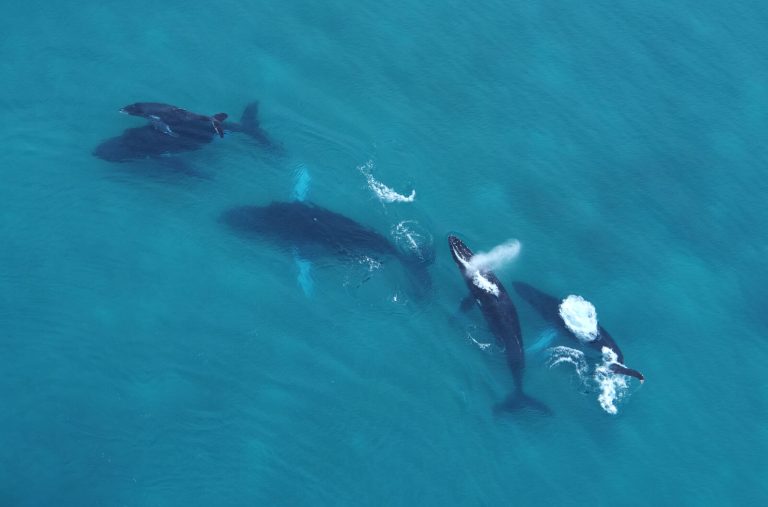 The Longest Humpback Whale Migration in the World
Once a year, from July to November, hundreds of Humpback whales from both hemispheres gather in the warm waters along the South Pacific coast. They come to breed and raise their young, making it one of the most special whale-watching times here.
Conservation Focus
Playa Cativo Lodge is dedicated to conservation efforts and sustainable tourism. Guests can participate in eco-friendly activities and learn about local conservation initiatives, making it a unique destination for environmentally conscious travelers.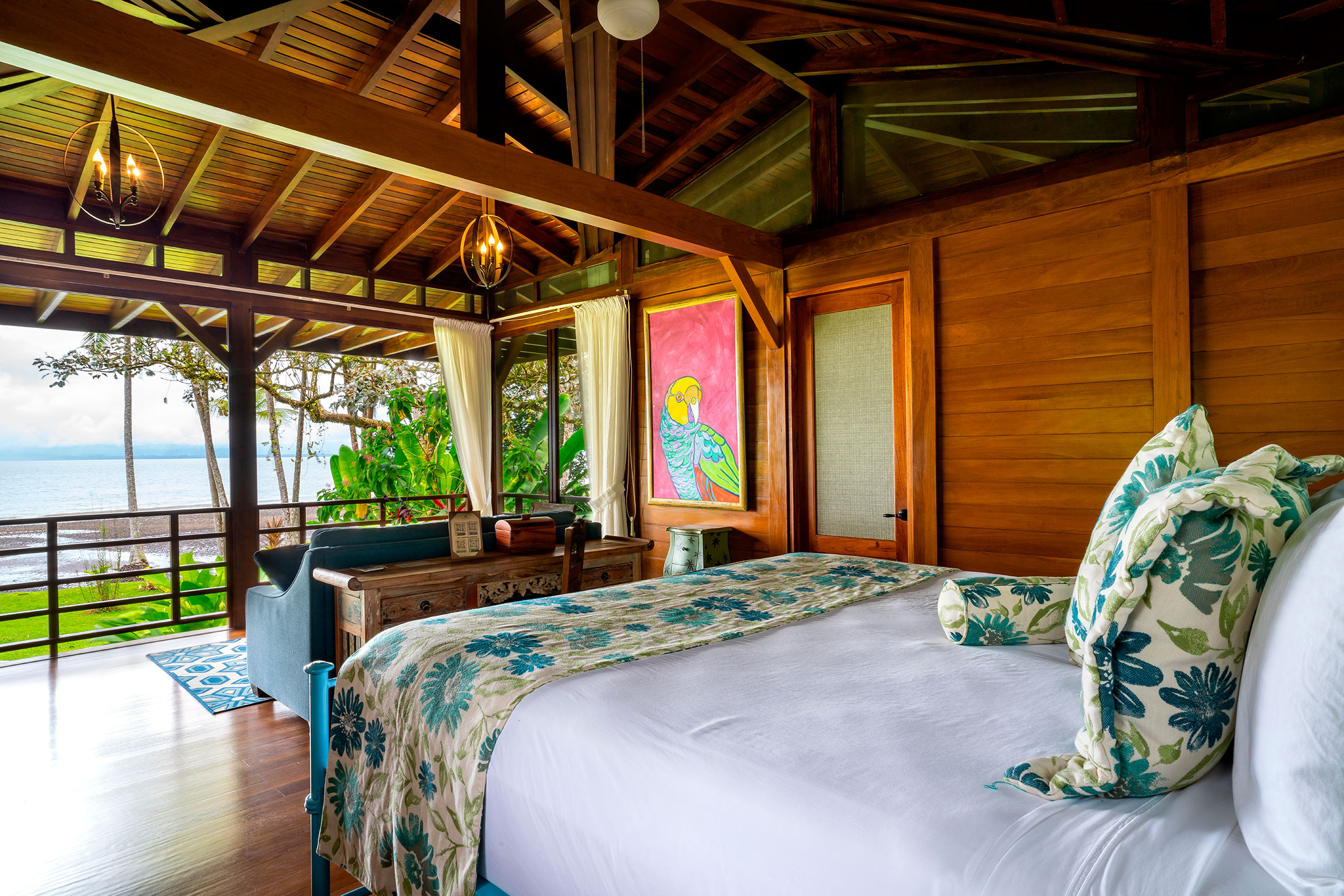 Featured Activities: 
Costa Rican Trails Recommends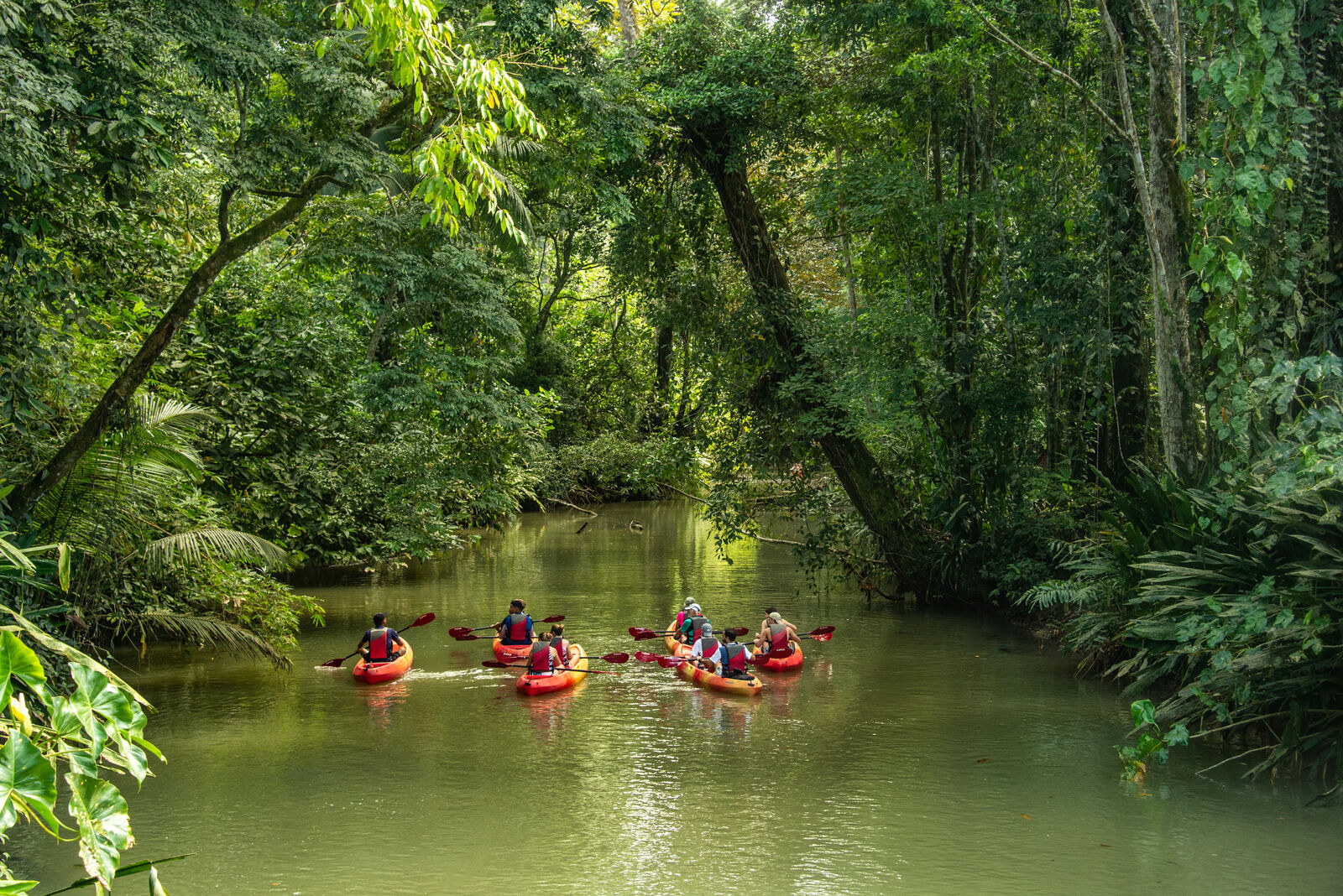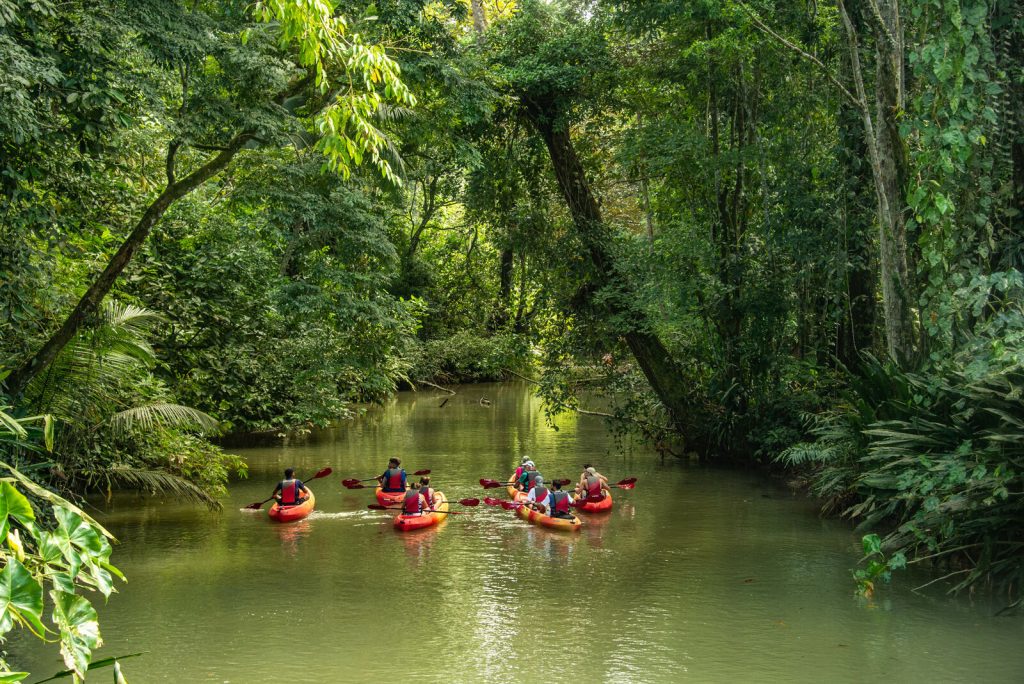 Rio Esquinas & Mangrove Exploration On Kayak
Some of the largest and most pristine river systems in Costa Rica are just a short distance away from the lodge. That's where the river mouth mangroves make for a picturesque scene of unspoiled rainforest. 
It's also terrain for some of the best birdwatching in the area – especially at low tide when exposed mudflats become feeding grounds for aquatic birds such as Herons, Egrets, and Ibises. 
The retreat's private boat tows guests' kayaks to the mouth of the river, from where they can venture out by themselves. A peaceful adventure teaming with wildlife awaits.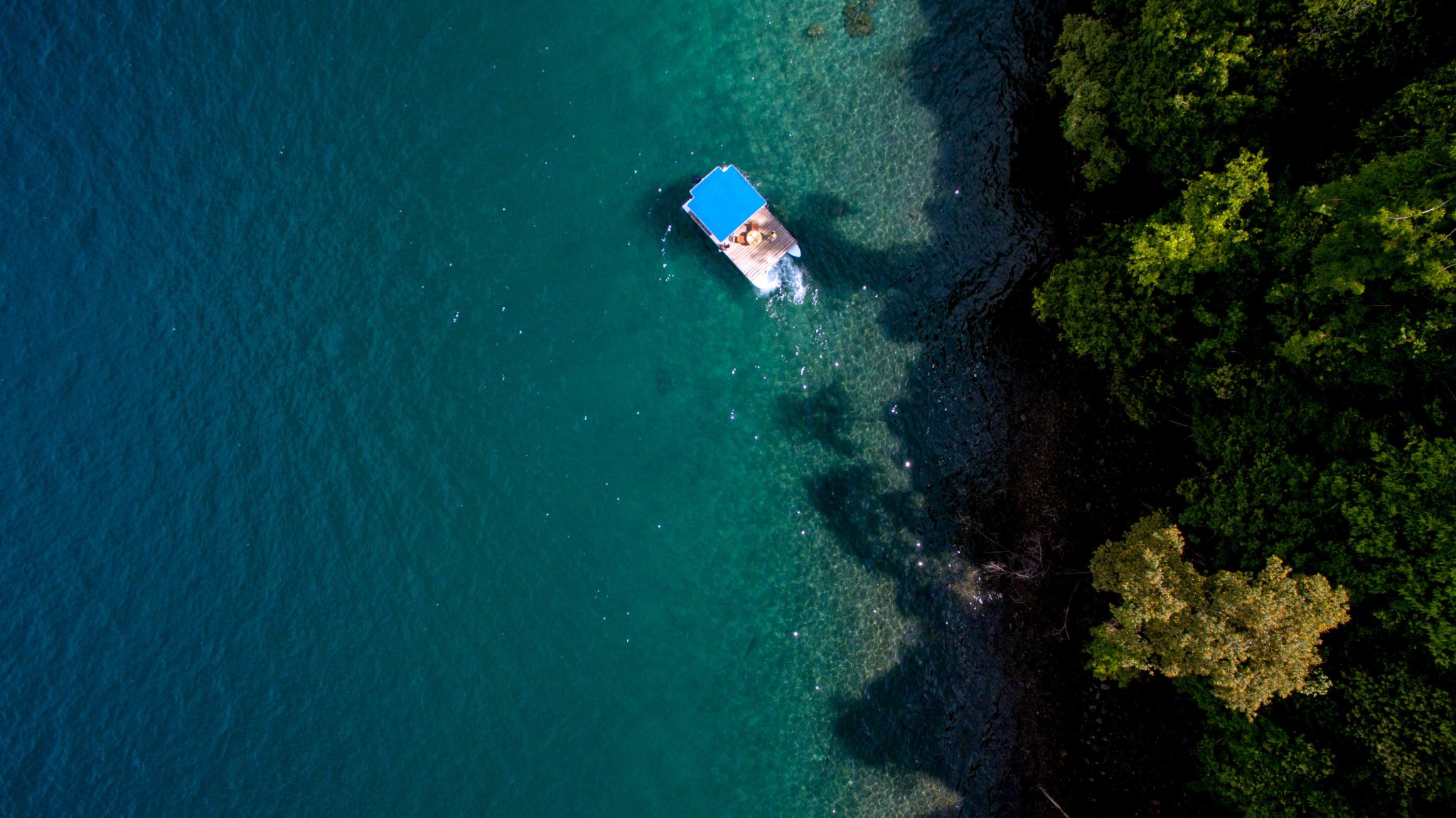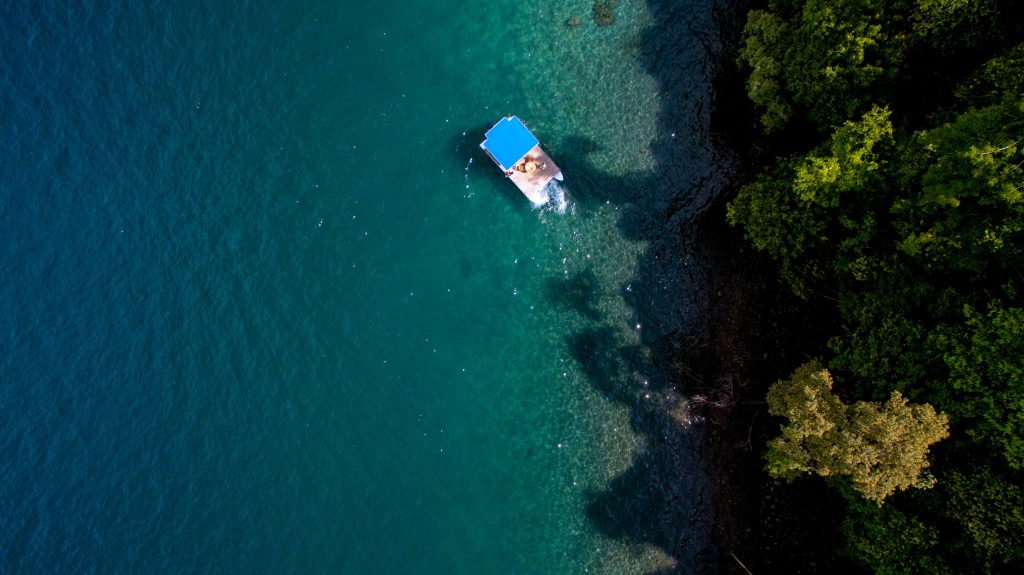 A Serene Start Into the Day: Sunrise Splendor at Golfo Dulce
At dawn, the team on site takes guests to the resort's "Piguilo" platform boat. Facing the Golfo Dulce, guests observe the world around them awakening. A wellness expert will lead a mindful movement session against tropical rainforest sounds. 
Practicing meditation surrounded by lush nature has an otherworldly effect on body and mind.
Once the sun rises and wildlife awakens, a delicious breakfast will be brought to the platform. Guests sip on mimosas and enjoy fresh fruits while taking it all in. 
Other Recommended Experiences Include: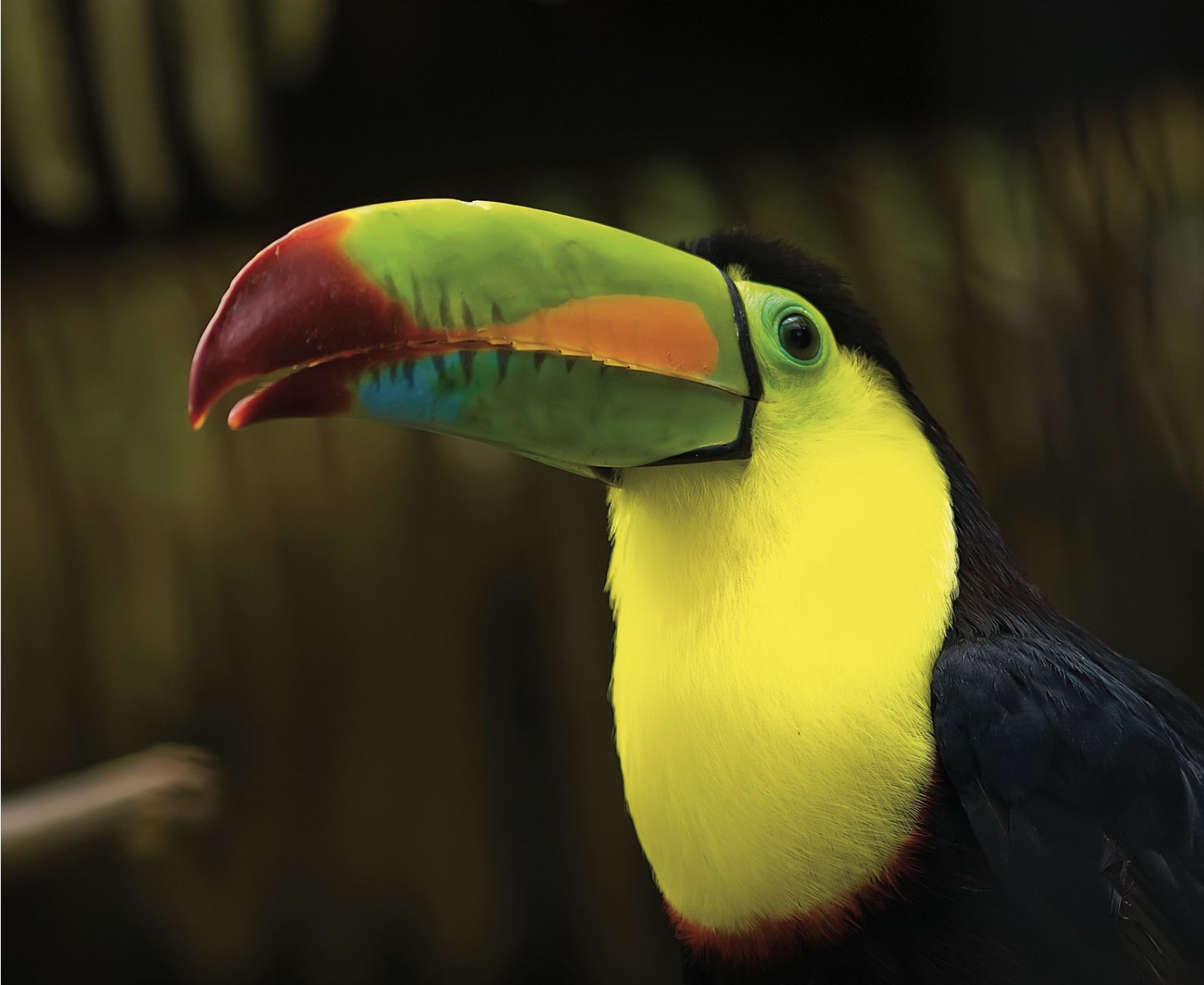 Guided Jungle Hikes
Being one of the most wildlife-dense places within the protected grounds of the resort, wildlife sightings are plentiful here. Monkeys, coatimundis, sloths, over 300 species of birds, and much more flora and fauna have been recorded within the area. 
Accompanied by a nature guide, guests learn about their surroundings and relax in a cozy setting with hammocks, drinks, and appetizers while spotting wildlife.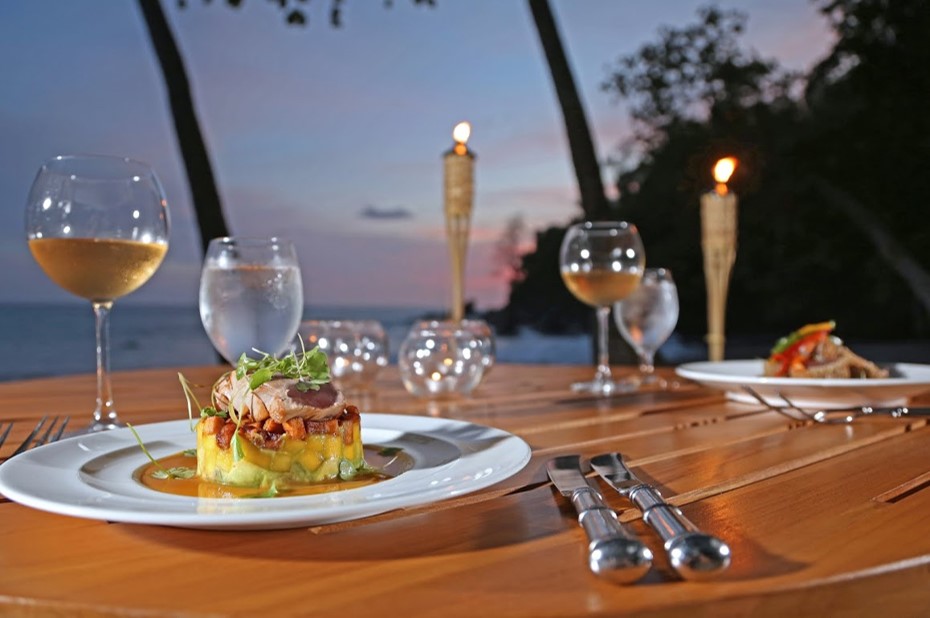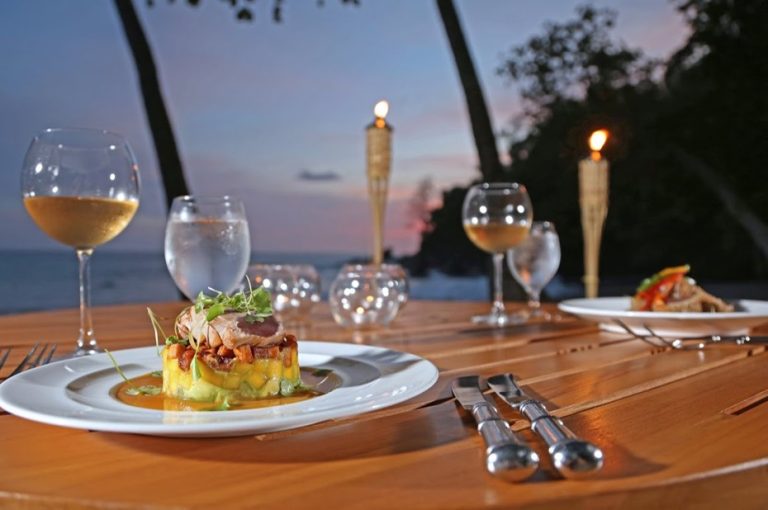 Romantic Castaway Picnic
Couples can enjoy each other's company at this idyllic picnic on Cativo Beach.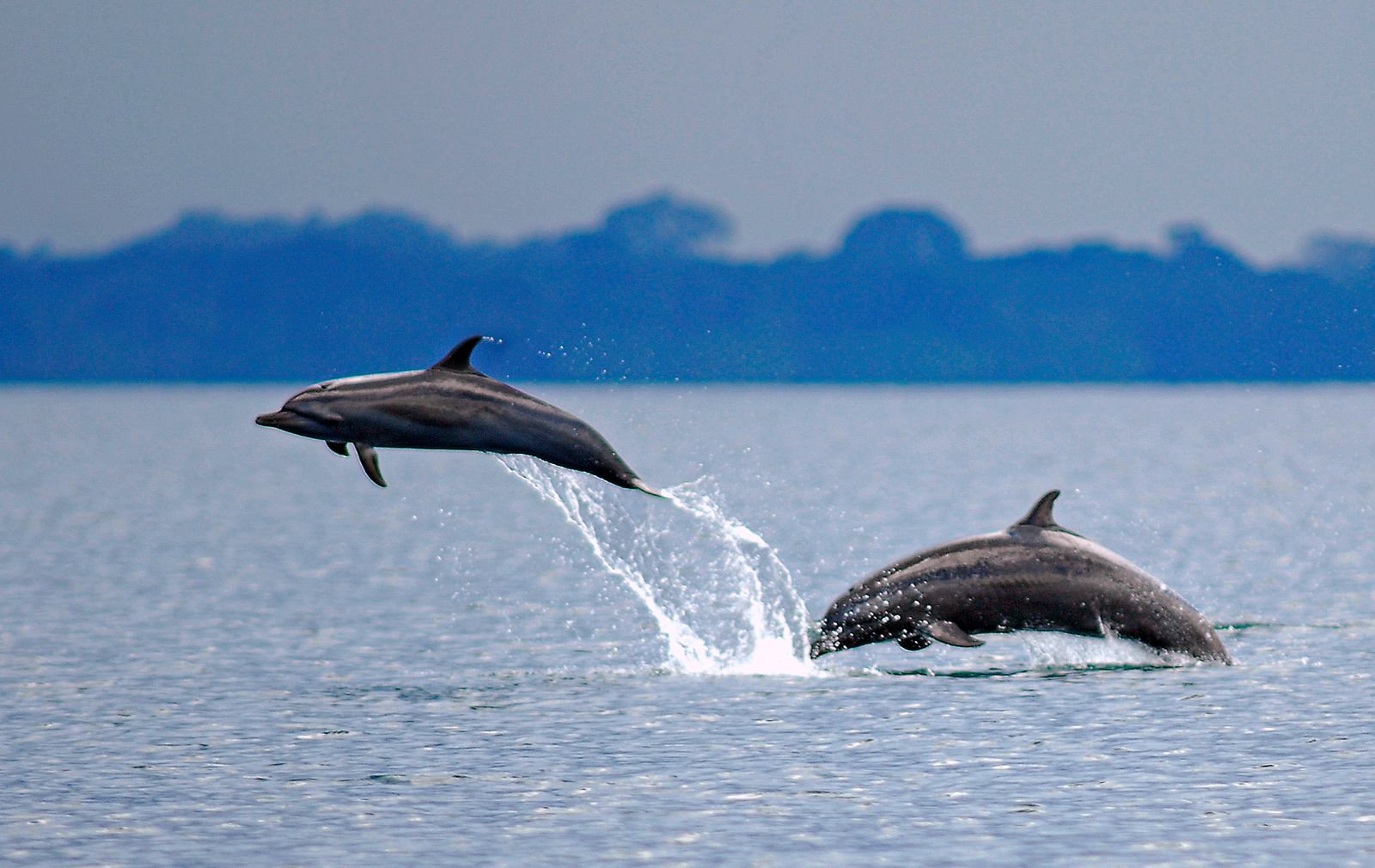 Marine Life Expeditions
Being a marine-protected area, Golfo Dulce is known for its rich marine life. Guests at Playa Cativo may have the opportunity to go on boat tours to observe and learn about dolphins and humpback whales.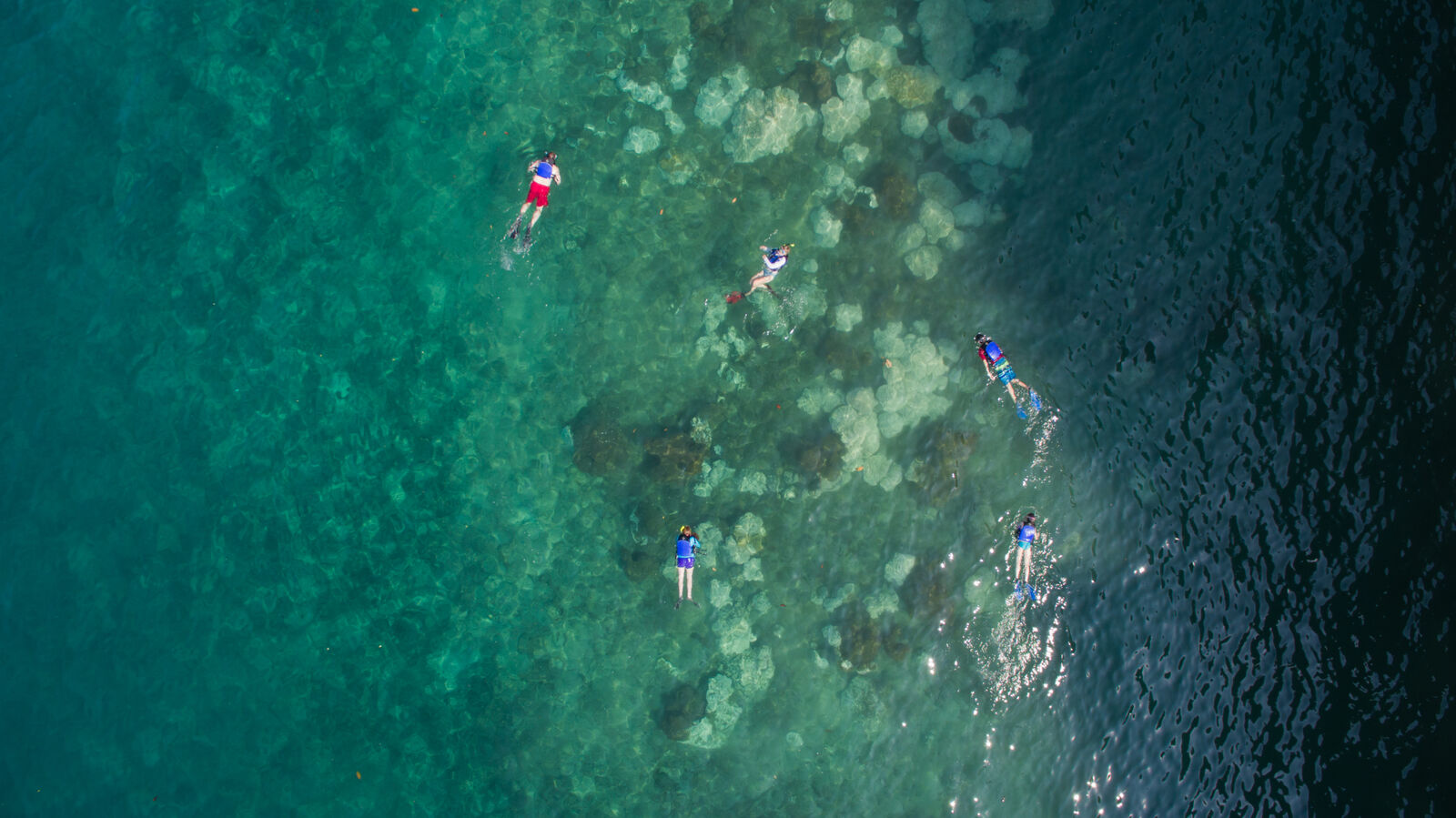 Exploring the Underwater World By Snorkel
With such a large variety of marine animals – another great way to explore this natural sanctuary is by diving into the water with a snorkel.
Hiking in Piedras Blancas National Park
Guests don't have to go far to see nature at its best. Adjacent to the property lies the Piedras Blancas National Park, with abundant flora and fauna. There are countless trails to choose from, ranging from rugged terrain to cascades and deep rainforests. Of course, guests will always be accompanied by an expert guide.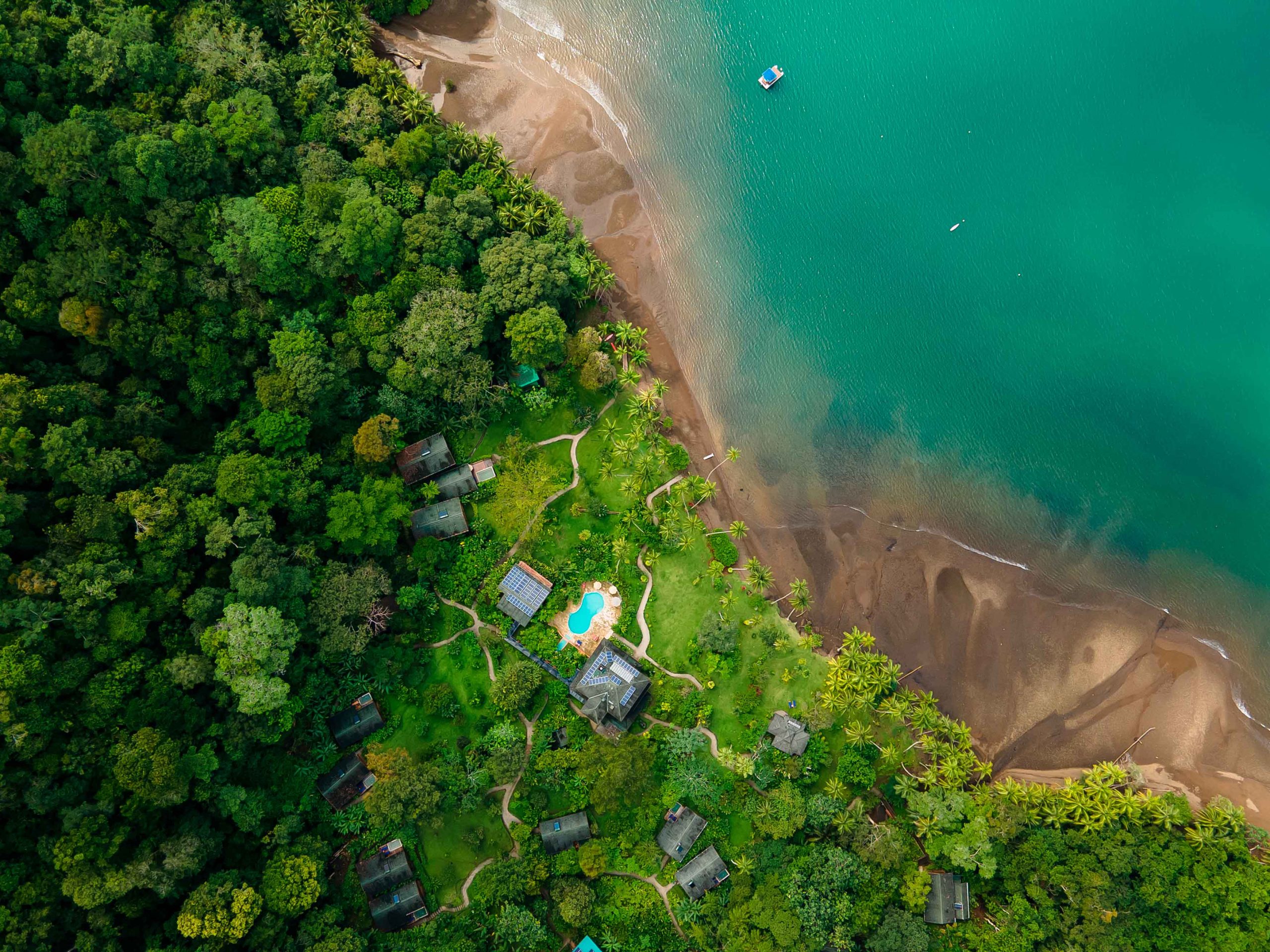 How to Get To Playa Cativo Lodge
We recommend taking a 45-minute domestic flight from San Jose Airport (SJO) to Golfito Airport. In the air, guests get to see spectacular views of Costa Rica. 
The Playa Cativo team will then pick up your guests at the local airport and take them to the last leg of the journey: a 30-minute scenic boat ride into the untouched rainforest.
Combining with Other Destinations in Costa Rica:
Playa Cativo Lodge is a great destination on its own, but guests can also combine it with other attractions on the South Pacific Coast of Costa Rica. For instance, they can explore the exceptional biodiversity of Corcovado National Park on the Osa Peninsula. 
In addition, they can visit Manuel Antonio National Park, another natural gem along the Pacific coast, or head to the Monteverde Cloud Forest Reserve for a unique ecological experience. 
There are several natural wonders and diverse ecosystems to discover in Costa Rica, and Playa Cativo is an ideal and eco-conscious base for guests to start their adventures.
We'd love to help you craft this journey for your guests. 
Download the Playa Cativo Experience Portfolio here.
For questions or bookings, email Maria Isabel.