Get to Know Our Beloved Costa Rica
Golden beaches and lush rainforests. Soaring volcanoes and cloud forests swirling with mist. Highland coffee farms and coastal Afro-Indigenous culture.
Costa Rica is a small country that offers a never-ending array of natural wonders that keep visitors coming back.
The heterogeneously distributed topography of the country contributes to the climate diversity, which makes some regions feel as if they were in different countries.
From dense, humid jungles to dry tropical forests; from steamy volcanoes to cool cloud forests, our central mountain range and both the Caribbean and Pacific coastlines offer a wide variety of landscapes and micro-climates for you to explore.
The temperature in Costa Rica is mainly determined by the elevation and other geographical factors and not by "season" as in the Northern Hemisphere.
We only have two seasons—the dry season, which runs from December to April, and the rainy season from May to November. Most mornings are usually sunny or dry during the rainy season since rains don't start until the afternoon.
Each season offers different, incredible natural wonders!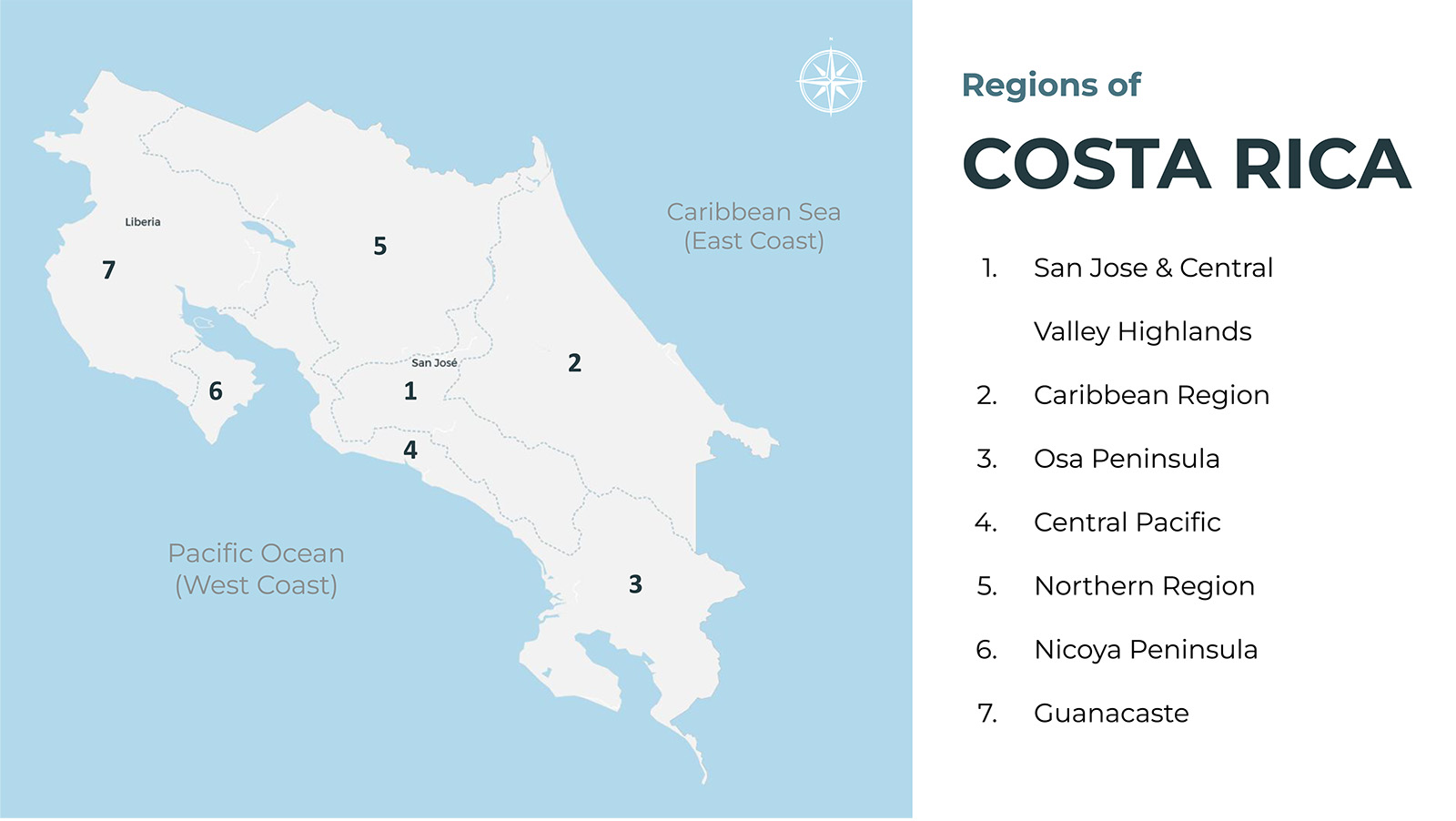 A pleasant, springlike climate. Rolling hills dotted with farms. All the comforts of modern city living —it is no surprise that most Costa Ricans live in the capital city of San José and the Central Valley.
Most visitors typically prefer to begin or end their trip in San José because of its central location and easy access to the most exciting attractions. Also, because it is only 20 minutes away from the country's main airport, Juan Santa Maria.   
San José offers a wide range of accommodations. From boutique city hotels to international chains. And just outside the city, the region boasts coffee farms, secluded waterfalls, and modern wellness sanctuaries. From San José, guests can take a one-day trip to Poás Volcano and visit one of its surrounding farms, which produces one of the best coffees in the world, thanks to the rich volcanic soils. They can also visit Rio Agrio and las Pozas Celestes—a fantastic river with a turquoise hue—located just an hour away.
Where the ocean meets the jungle and the Afro-Caribbean chill vibes, the Caribbean Region is a unique and exuberant place!
The South Caribbean side of Costa Rica is a favorite spot for visitors due to its cultural allure, white sand beaches, turquoise waters, lush vegetation, abundant wildlife, and its proximity to Cahuita National Park and Gandoca Manzanillo National Wildlife Reserve. The Talamanca region is also home to multiple native, indigenous, and Afro-Caribbean communities.   
Soak in the chill Caribbean vibes of Puerto Viejo—a beach town popular for surfers, young bohemians, and foodies—or go snorkeling into the crystal-clear water of Playa Chiquita.  
While most of the action is near the beach areas, you can also visit nearby inland areas such as the BriBri indigenous community and learn about their fascinating pre-Columbian culture, medicinal plants, and how they process cacao.  
In the Northern Caribbean, guests can experience rafting in one of the most scenic rivers globally, the Pacuare River, or take a boat ride through calm canals to visit Tortuguero National Park, the most important breeding ground for the giant Green Turtle. Communities in the Caribbean have united in concern for the environment. Therefore, you will find that all hotels here are boutique, charming and locally owned, and offer an authentic hospitality experience.
The Osa Peninsula is named "the most intensely biodiverse place on the planet" by National Geographic and a top place for adventurous wildlife lovers seeking for a true immersion in nature.
This is Costa Rica's wildest place, one of the most remote and mystic areas of the country which has remained untouched. Scarlet macaws soar. Monkeys swing overhead. Jaguar and tapir leave tracks on the forest floor. This area also conserves an assortment of over 300 pre-Columbian stone spheres, commonly attributed to the extinct indigenous Diquis culture, and it was added to the UNESCO World Heritage Sites.    
Corcovado National Park is the crown jewel, but not the only attraction. We also recommend visiting Piedras Blancas National Park, Bahia Drake, or Caño Island for snorkeling and diving. And the warm waters of the Golfo Dulce, which draw humpback whales, dolphins, anglers, and surfers.
Some of the country's finest and most storied nature lodges are located in the Osa Peninsula.
Easy access from San Jose. Miles of wide sandy beaches. Vibrant rainforests are brimming with wildlife. That is why the Central Pacific is one of Costa Rica's most-visited regions.
Manuel Antonio National Park is the main attraction and is a great option for families or couples. Further south, Dominical and Uvita beaches attract surfers and wellness seekers.
The Central Pacific offers something for every visitor. From zip lining to kayaking. Rafting to offshore fishing. Leisurely nature strolls and more challenging treks to remote waterfalls.
Accommodations are as varied. Boutique beachfront resorts. Multi-bedroom condos. Hilltop ultra-lux adults-only hideaways.
The Northern Region is a diverse, inland wonderland.
 High-elevation cloud forests and lush tropical volcanoes. Hot springs, turquoise blue rivers, hanging bridges, and expansive arid grasslands.
Highlights include the cozy mountain town of Monteverde, famous for coffee, cheese, and the resplendent quetzal. The geothermal pools and hanging bridges surround the picture-perfect Arenal Volcano. And the brilliant blue waters of Rio Celeste in Tenorio Volcano National Park.
From rustic, family-run fincas and eco-lodges to 5-star world-class resorts, the Northern Region has accommodation options for every type of traveler.
The Nicoya Peninsula is renowned as one of the world's Blue Zones.
Here, people live longer, healthier lives than anywhere else on the planet. Could it be something in the water?
The ocean is a way of life. Wake up for sunrise, and you will see surfers and local fishermen heading out to sea. Witness an arribada in Ostional Wildlife Refuge—where thousands of Olive Ridley turtles gather and come ashore to lay their eggs—one of nature's greatest spectacles!
When conditions are right, the water shimmers with bioluminescence in the evening.
The beach towns of Santa Teresa, Malpais, and Nosara have long attracted bohemian travelers (and celebrities). That's why you will find numerous wellness and yoga retreats + private luxury villas.
With sunny and dry weather almost all year and nearly 400 miles of coastline with an array of pristine beaches with black, coral, and golden sand, Guanacaste is one of the favorite regions for international visitors.
Guanacaste is also the cradle of our culture; the land of "sabaneros" (Costa Rican Cowboys) and "trapiches" (traditional sugar cane mills), and it boasts a significant number of protected areas, including water, land, mountain, and coastal ecosystems that are teeming with life. 
The "Gold Coast" areas of Papagayo Peninsula, Tamarindo, and Conchal are easily accessible from the Liberia Airport (LIR).
You can't miss hiking through the lush meadows and evergreen forests of Rincón de la Vieja Volcano National Park and relaxing in its thermal hot springs. For bird watchers, Palo Verde wetlands is a spectacular destination.
Guanacaste is also widely known for being home to the country's finest resorts. 
Let Us Help You Craft Your Itinerary.